FIAT 500 3+1
Generations Timeline, Specs and Pictures
FIAT 500 3+1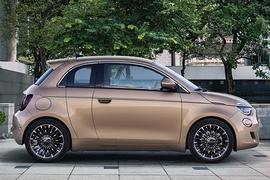 2020 2022
The Fiat 500 saga continued with the introduction of a new model in 2020.
It was a bold move that offered easier access to the rear seats.
The 500 might be one of the biggest success stories in Fiat's history. It was the car that saved the Italian carmaker from bankruptcy and the foundation of its evolution. After it switched to an all-electric drivetrain, the bodywork needed some transformations to be a better daily driver in the city or as a commuter vehicle.
At a glance, some might say that there were no modifications to the vehicle. In the front lower bumper, there was a mesh that provided air to cool the AC condenser and the batteries. The standard full-LED headlights were half-round with "eyebrows" on the hood. A pair of circles for the daytime running lights decorated the bumper's upper corners. In the back, the car marked the return of full-size taillights. Previously it featured only a lit rim. They were full-LED as well.
The most significant difference was on the passenger side, where there were a door and a half. The rear one was rear-hinged (suicidal door) and provided easier access for the bench. It was okay if there was a baby strapped in a child seat in the back. Moreover, there was no B-pillar between the A- and C-pillars. The instrument panel was a 7" TFT display while the infotainment UConnect system featured a wide, 10.25" touch-screen.
For the drivetrain, the 500 3+1 featured a 70 kW electric motor fed by a 23.8 kWh battery pack. It could drive up to 240 km (150 miles) in the city, with 180 km (112 miles) range in a complete NEDC cycle.
Full Description and Technical Specifications