GEELY MK
Generations Timeline, Specs and Pictures
GEELY MK 2 Hatch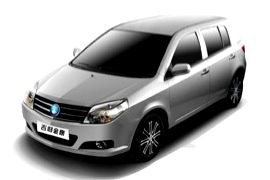 2010 2014
The Chinese carmaker Geely made a hatchback fit for specific markets based on the same platform as its sedan sibling.
There was something very familiar in the look of the MK2 hatchback; it resembled the Toyota Vios, and there was no surprise about that since the Chinese carmaker took its inspiration from the Japanese vehicle.
After the media started to criticize the brand for that resembling, the carmaker worked hard and redesigned the front end. It installed angular headlights that resembled the Opel/Vauxhall Astra H but with sharper lines at the top. In the rear, its taillights might have been mistaken for other cars as well, but overall the car looked familiar to many.
Inside, the carmaker installed the instrument cluster in the middle of the dashboard, like on the second-generation Toyota Vios, but with different styling for the center stack, which featured vertical vents instead of rectangular ones. Under the CD-stereo, the carmaker installed a small storage area with a lid for additional items. In the back, there was room for three adult-sized passengers if they were squeezed together.
Under the hood, Geely installed only one engine option paired to either a 5-speed manual or a 4-speed automatic. For selected markets, the Geely MK2 Hatch provided more engines of up to 1.8-liter displacement.
Full Description and Technical Specifications
GEELY MK Sedan
2006 2014
The Chinese brand Geely started to produce a subcompact-class car named Geely MK in 2006.
The company was criticized for the exterior design of the vehicle, which looked quite similar to the Toyota Vios. But Geely moved on and continued to produce the car.
The headlights had an angular shape, extended over the hood and sides. No fancy features were found on the model and only classic halogen lamps were available. As an option, customers could also order fog lamps. Inside, the features were limited only to what a driver needs. Power windows were added as an option and same happened with the AC unit. The dashboard was simple, with an overall look that reminded of the Volkswagen Golf V.
There was also a sound system, offered as an option to enhance the look of the center console. Inside, there was not too much room for the rear passengers, especially if they were taller.
Under the hood there were two choices of engines, both gasoline and with a 4-cylinder architecture. With a displacement of 1.5 and 1.8 liter capacity, respectively, these were produced under license from Toyota. The offered transmissions were either a 5-speed manual or a 4-speed automatic.
The model was also available in Russia and some Eastern European countries, since the car didn't pass the safety regulations in the European Union.
Full Description and Technical Specifications