HOLDEN Astra 3 Doors
Generations Timeline, Specs and Pictures
HOLDEN Astra 3 Doors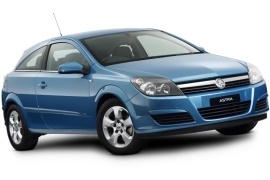 2004 2009
General Motors noticed that the young European customers were looking for sporty-looking vehicles; a 3-door hatchback was not exactly what they wanted.
In 2004, Vauxhall introduced the GTC version for the Astra. Basically, it had the same underpinnings as its five-door sibling, but it shared only a part of the body and offered a better-looking vehicle.
The Astra was one of the greatest success stories ever made by Vauxhall. A study revealed that up to 2010, over 80% of the British drivers drove or had friends who owned an Astra. But the younger drivers were not very attracted by the oddly-shaped 5-door compact vehicle. The Astra GTC fixed that with a very raked windshield and a sloped back that made the car look closer to a coupe than a hatchback. The narrowed rear triangular windows and the big tailgate transformed the otherwise dull Astra into an eye-catcher.
The interior was the same as in any other Vauxhall Astra, with a rounded case for the instrument cluster. In the back, there was a good amount of space for two adults. The center tunnel was too big to fit three passengers in there. The split-folding rear seatback seat was good for expanding the trunk, which was big enough to help the driver move from campus to home and back over the summer break.
Under the hood, the Astra GTC was offered with a wide choice of diesel and gasoline engines. Its top version was the VXR, which provided 200 hp.
Full Description and Technical Specifications