HONDA Civic Shuttle
Generations Timeline, Specs and Pictures
HONDA Civic Shuttle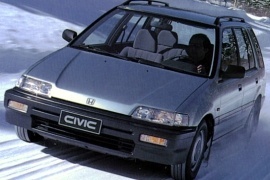 1987 1993
The Civic Shuttle, or Wagon, was Honda's attempt to build a vehicle inspired by a minivan, but it was hard to tell if it was a station-wagon or a small MPV.
While the minivan market started to increase in the mid '80s, Honda had nothing to offer on that segment. But in 1987, Honda introduced the fourth generation of the Civic, and, based on the same platform. It built the Shuttle, also known as Wagon, on selected markets, such as the one from the U.S. The result was more than just a new minivan. It was a crossover vehicle available with an intelligent 4WD system.
The wedge design was at its peak, and Honda designed the Wagon with straight lines. At the front, the connection with the Civic was obvious, featuring similar headlights. Since the greenhouse was taller, the hood was rather raked than flat. A huge window area was built for the vehicle, so it could minimize the blind spots and increase the car's safety. In the rear, an almost vertical flat tailgate was installed.
Inside, the Civic Shuttle offered room for five with enough legroom and headroom for all the occupants. It was fitted with a flat dashboard and an angular instrument cluster. Curiously, for the vehicles that featured an AC unit, there was a separate set of pop-up vents in the middle of the dash. On the other hand, the car didn't feature power-steering, power windows, or locks. At least the trunk was big enough for a weekend trip.
Under the Wagon's skin, Honda installed a choice of three engines and a "Real-time 4-wheel drive). That system used the front axle to move the vehicle, and the rear owns got traction only when the situation required.
Full Description and Technical Specifications