INFINITI M Coupe
Generations Timeline, Specs and Pictures
INFINITI M Coupe M30 Coupe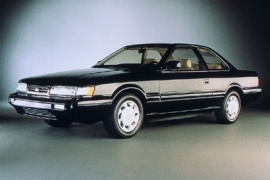 1990 1992
When Nissan entered the premium segment with the Infiniti brand, it started with the M30, a re-badged Japanese Nissan Leopard, the coupe version of the Laurel.
In Japan, Nissan Laurel was one of the carmaker's best vehicles, and the management considered that it was fit to stick a premium badge on it and did the same with its two-door brother, the Leopard. The Infiniti M30 Coupe landed on the U.S. market in 1989 as a 1990 model-year with everything said and done.
In 1986, Nissan introduced the Leopard on the Japanese market with an angular design and slim horizontal headlights. The narrow front end and slightly raised hood continued with a rakish windshield. Its sleek sideline with elegantly designed rear side windows and a roomy greenhouse matched other premium vehicles' look in its segment. Thanks to its front-engine and rear-wheel-drive architecture, it showed a flat hood profile. In the back, the carmaker had to make a compromise to keep the wide taillights and installed a trunk-lid that didn't go all the way down to the bumper.
The interior was carefully crafted with leather upholstery extended on the doors and side panels. Its angular-looking dashboard featured a center stack slightly sloped toward the front. There was enough room for four adult passengers thanks to its long cabin and low seating position.
Nissan offered the M30 in only one powertrain configuration, with a 3.0-liter V-6 engine under the hood paired to a standard 4-speed automatic transmission.
Full Description and Technical Specifications