KIA Joice
Generations Timeline, Specs and Pictures
KIA Joice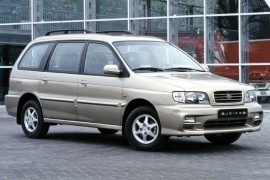 1999 2003
Kia's evolution was aided by its partner, Hyundai Motor Corporation.
An ancestor to the Kia Carens, the Joice was a small minivan that filled a spot on the market between a station wagon and a minivan. Technically, it may be called "minivan", but also it is fairly OK to call it a "bigger station wagon".
Hyundai gave platforms and engines to Kia to help it grow. This was the situation with the Kia Joice in 1999. It was the minivan that helped Kia enter into some markets where 7-seater vehicles were more appreciated.
Under the hood there was a 2.0-liter engine in two variants: 118 hp and 137 hp, respectively. There were two transmissions available: a 5-speed manual or a 4-speed automatic. While the vehicle was used mainly for shuttle and commercial use, its reliability helped Kia increase its image on the European and Asian markets. It was well received also in Russia, where it was used as a shuttle vehicle for hotels and airports since it was cheaper than the regular minivans and roomier than station wagons.
The options were decent for the vehicle, including climate control, power windows, and seatbelts for all seats. The trunk was enough for 5 people and the rearmost row could be folded or even removed entirely if needed.
Full Description and Technical Specifications