MAZDA CX-7
Generations Timeline, Specs and Pictures
MAZDA CX-7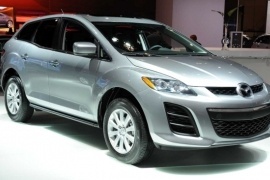 2009 2012
The second generation of the Mazda CX-7 was revealed in 2009 at the New York Auto Show.
With a completely redesigned and modern exterior look, the CX-7 drew people's attention. But it wasn't only the looks.
Inspired by the company's RX-8 and MX-5, the CX-7 itself was a sporty crossover SUV, offering great performance and unusual handling abilities for an SUV.
The peppy powertrain was a 2.3-liter turbocharged 4-cylinder engine available as a single option, the unit producing 244 hp. While faster and punchier than most of its competitors at the time, the CX-7 was a thirsty car, especially on the highway.
For someone who would've chosen looks and powertrain over practicality, the CX-7 was among the best options out there. But when it came to interior room and even the trunk's size, the CX-7 was way behind.
For 2009, the Mazda CX-7 was available in three trim levels: Sport, Touring and Grand Touring.
Even the base Sport model was well equipped with 18-inch alloys, air-conditioning, full power accessories, cruise control and a 6-way manual adjustable driver seat.
With the Touring trim level, the customer enjoyed leather upholstery, an 8-way power diver seat, heated front seats and a retractable cargo cover.
The top-of-the-range Touring featured xenon headlights, heated side mirrors, automatic headlights, automatic climate control and a unique leather upholstery.
Full Description and Technical Specifications
MAZDA CX-7
2007 2009
Derived from the MX-Crossport concept, the CX-7 was a midsize crossover that blended SUV capabilities with the agility of a sporty car, managing to provide a fun ride.
The exterior design resembles some of the RX-8's styling cues, with prominent front fenders and a five-pointed grille specific to the Mazda's models.
Inside the Cabin, the CX-7 offered a unique instrument panel with a "double-roof" structure. The materials used were of good quality and the controls were intuitively placed.
Roomy enough, both the front and the rear passengers could enjoy longer journeys.
Power came from a 2.3-liter 4-cylinder gasoline engine that produced 244 hp and 258 lb.-ft of torque even from lower rpm. The powerplant was mated with either a 6-speed manual or a 6-speed automatic transmission. One of the downsides of the 2.3-liter unit was the fuel consumption that was rather high.
Safety was one of the CX-7 strong points, with ABS, Dynamic Stability Control and Traction Control. Customers could choose from a front-wheel-drive system or the Mazda's Active Torque-Split All-wheel-drive system.
The trunk size didn't disappoint the buyers looking for enough space to store their luggages when going on vacation.
The CX-7 was a strong competitors to the Nissan Murano and the BMW X3.
The thirsty engine was later replaced by a 2.2-liter diesel unit in 2009.
Full Description and Technical Specifications