MCLAREN 12C GT Sprint
Generations Timeline, Specs and Pictures
MCLAREN 12C GT Sprint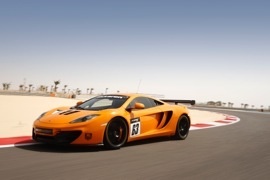 2013 2014
Since there are McLaren customers that took their cars to the track and there was a gap in the manufacturer's lineup between the regular C12 road car and the GT3 version, it launched the GT Sprint vehicle in 2013.
McLaren is one of the most famed British race-car manufacturers. Its cars dominated the motorsport arena in various racing such as the 24h of LeMans, the Formula 1 and GT championships. Its heritage made the Executive Board launch a series of supercars for the road. Soon after, it was revealed that their customers took the cars to tracks for weekend races.
Usually, a track-car had to serve different purposes than a road car. Even the fastest car for the road does not have the track-suspension or tires. In some situations, the track tires are not even allowed for street use. The aerodynamic package of a street-use 12C is different. While the street vehicle aims for a balance between road-holding and fuel-efficiency, the track-car has to worry only about traction. Also, the cooling system was redesigned for track-use, with bigger radiators behind the front, enlarged, grille. New air-vents were installed on the front trunk lid to improve the cooling effect. The trunk itself was deleted, being occupied by technical components.
The C12 Sprint featured a lower ride height, carbon-ceramic brake discs, and center-locking 19-inch OZ wheels. To change the tires, the vehicle was fitted with an on-board air jacking system. Optional extras included a new polycarbonate windscreen and other weight-saving features made from carbon fiber.
Full Description and Technical Specifications