NISSAN Juke
Generations Timeline, Specs and Pictures
NISSAN Juke
2019 2022
Almost ten years after the first ever Juke made it appearance and changed the scenery in the compact crossover segment, Nissan decided to unveil its second generation, going for a much more mature design this time.
Unlike its predecessor, the 2020 Nissan Juke looked a lot more mellow from most angles, but it still had a stand-out design among its rivals.
Although bigger and roomier than the first generation, the Juke was slightly lighter, weighing 23 kilograms less thanks to the clever usage of high-strength steel in all the right places. At the beginning of the production, the model was powered only by a 1.0-liter, turbocharged three-cylinder with 117 PS, which was available with either a 6-speed manual or a 7-speed dual-clutch transmission. No all-wheel-drive versions were available at launch either.
For the first time, the Juke was available with the proPILOT techonology developed by Nissan, a package offering electronically assisted steering, acceleration and braking, thus easing driving on the highway and in traffic.
Using the Nissan Connect infotainment system, buyers could efficiently use their devices with Android Auto or Apple CarPlay through an 8-inch touchscreen display. Other features included TomTom maps, Live Traffic and on-board wireless hotspot for the passengers to enjoy the ride at its maximum using their laptops or tablets.
The sound system chose by Nissan for the new Juke was a Bose Personal Plus sound system. It included 8 powerful speakers and two UltraNearfield units mounted in the front headrests.
Full Description and Technical Specifications
NISSAN Juke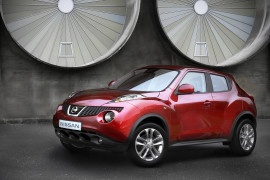 2010 2019
In March 2010, at the Geneva Motor Show, Nissan showed its newest creation, the Juke.
The small crossover vehicle shocked with its unusual design but featured some fresh ideas for the market.
While the market started to look more and more for vehicles on stilts, Nissan imagined and launched a car that gathered attention to it. The Juke was so weird in its design that it instantly went into the "love-it or hate-it" car-category.
For some, the upper lamps installed above the grille might look like a Z-shaped headlight. But that was wrong. The real headlights were the big, rounded units installed in the bumper, at the same level with the chromed Nissan badge. The upper lights were for turn signals and the position lights. Viewed from the side, there was a hatch-back inspired bodywork, with a sloped roofline that ended into a small spoiler placed on top of the liftgate.
Inside, more details stood out. The center console that mimics a motorcycle gas-tank, the lowered seating position and the clear, sporty, instrument cluster were parts that could suit better a sporty hatchback than a small crossover car.
The Juke was available with front or all-wheel-drive systems. Its engines were supplied by both Renault and Nissan, while the AWD traction system was from the Japanese company since it had far more experience in that area.
Full Description and Technical Specifications