SEAT Leon ST Estate
Generations Timeline, Specs and Pictures
SEAT Leon ST Estate Leon Sportstourer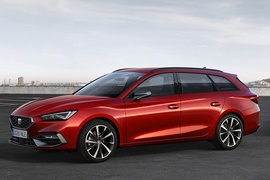 2020 2022
The second generation of the SEAT Leon Sportstourer was unveiled alongside its compact hatchback brother in the beginning of 2020 in Martorell, Spain.
even though it's based on a similar platform as the third-generation Leon, the new compact station wagon features plenty of modifications to ensure even higher levels of driving pleasure, better efficiency from its available powerplants and more safety features.
A lot more infused with technology, the second-generation SEAT Leon ST is the Spanish carmaker's first fully connected car alongside the regular Leon, with the infotainment system offering Android Auto and wireless access to Apple CarPlay and various in-car apps. Just like on the regular compact, the model's data, charing status or air conditioning system can even be accessed remotely through a smartphone app in the case of the plug-in hybrid version. A host of powertrains are available, from gasoline, diesel and Compressed Natural Gas (CNG) to mild-hybrid (eTSI) and plug-in hybrid (eHybrid versions. The new Leon Sporttourer is 93 mm longer, 16 mm narrower and 3 mm lower than its predecessor. Thanks to various updates to the MQB platform, which is now called MQB Evo, the models also features a 50 mm longer wheelbase. The new design language not only makes the car look sportier but also allows a reduction of the drag coefficient of 8 percent compared to the previous generation.
Full Description and Technical Specifications
SEAT Leon ST Estate
2013 2020
In July 2013, SEAT revealed the third member of the Leon III family, the Leon ST estate model.
Visually similar to the hatchback versions but slightly longer and with an improved luggage space in the rear, it's also built on the new MQB platform, which saves weight and reduces the cost of production for the VW group. The new Leon estate has 587 liters of luggage space with the seats up or up to 1,470 liters with them folded down.
The compact station wagon is available with a variety of engines shared with the Volkswagen Golf VII, the Audi A3 and the Skoda Octavia, all of them sharing a similar architecture and being developed almost at the same time. The powertrain lineup includes two versions of the 1.2-liter TSI engine rated at 86 HP and 105 HP, respectively, while the larger 1.4-liter TSI has two power versions as well, with 122 HP and 140 HP, respectively. The most powerful gasoline version apart from the Cupra, the FR, will arrive with the 1.8-liter TSI unit that's good for 180 HP. The company will also offer three diesel versions - a 1.6-liter TDI with 90 HP, a 2.0-liter TDI with 150 HP, and a more powerful 2.0-liter TDI with 184 HP for the diesel FR model.
Full Description and Technical Specifications