SKODA Favorit
Generations Timeline, Specs and Pictures
SKODA Favorit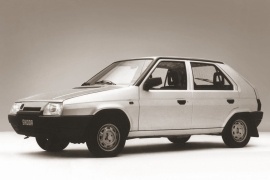 1989 1995
Skoda made the Favorit in 1987 as a new beginning for the Czechoslovakian brand, which tried to replace the older 120/Estelle and switch from rear- to front-wheel-drive system.
The model was unveiled in 1987 at the Brno Engineering Fair as a 5-door hatchback, a 5-door station wagon, and a 2-door pickup (also known as the Forman). Sales started in 1987 for the left-hand drive and, due to financial issues, the right-hand drive was ready only in 1989, before the Velvet Revolution that freed the country from the communist regime. A 4-door sedan prototype was ready but never went into production. It was the first front-wheel-drive vehicle built by the carmaker. Instead of a grille, the designer installed a metallic panel that almost blocked the air to the engine. The cooling was done via a slatted grille in the lower bumper area, and that proved to be insufficient for city traffic.
Inside, the Skoda Favorit had a clean layout with straight lines. The wide and slightly slanted instrument cluster featured a glove-box on the passenger side and, a first for a Skoda, a center stack where the carmaker installed the ventilation controls. Its instrument cluster was wider than the instrument panel and covered an area used for vents and a few buttons used for the rear-window defroster, fog-lights, and interior lights. The gear-stick popped through the center console next to a storage area.
Initially, the Favorit was powered by a 1.3-liter gasoline engine that provided 62 hp. It was paired to a standard 5-speed manual gearbox.
Full Description and Technical Specifications