VOLKSWAGEN Golf R Cabrio
Generations Timeline, Specs and Pictures
VOLKSWAGEN Golf R Cabrio Golf VI R Cabrio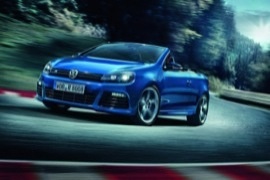 2013 2017
Volkswagen didn't have too much success with its convertible cars.
It was a brand built on the "form follows function" and the form was rarely sexy. But it did had some interesting models, such as the 2013 Golf R Cabriolet.
The sixth generation of the Volkswagen Golf had the R-version with a lot of power, all-wheel-drive, and great handling. Considering its success, the VW management decided to throw in a soft-top version, named Golf R Cabriolet.
There were some features of the Golf R Cabriolet to distinguish it from the Golf GTI Cabriolet. Apart from the badges, there were different wheels, different grille, and chromed tailpipes.
Inside the cabin, the Golf R Cabriolet featured bucket-seats upfront and a DSG gearbox. The adaptive dampers were a standard-fit. Due to that, the car could behave like a normal, comfortable, convertible, or like a sporty one. But the car wasn't quick only on the tarmac. It was fast in opening and closing its canvas roof with times of 9 seconds and 11 seconds, respectively.
The problem with the Golf R Cabriolet was that it was 60 hp more powerful than a Golf GTI Cabriolet and it was more expensive than the Golf R hatchback. But while the Golf R was all-wheel-drive, its open-top version was only FWD. But it was fast enough for its class, with a 0-100 kph (0-62 mph) sprint in 6.4 seconds. The big brakes kit consisted of a pair of 345 mm (13.5") discs upfront and 310 mm (12.2") discs in the rear.
Full Description and Technical Specifications