ASTON MARTIN DB2
Generations Timeline, Specs and Pictures
ASTON MARTIN DB2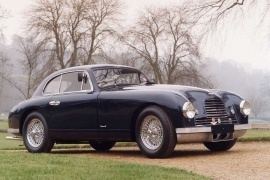 1950 1953
The Aston Martin DB2 was, actually, the first DB model.
Its predecessor was named 2-Liter Sports. In 1950, after the acquisition of the Lagonda sports car maker, the new coupe received the official name DB2.
The post-war Aston Martin company grew due to the influence of David Brown, who bought the brand in 1947. In the same year, he bought the older brand Lagonda, which was established in 1906 and had a better experience in building engines. By combining the two car-manufacturers, the first result was the DB2.
The front side featured an early version of what would become the Aston Martin signature grille. The bodywork was designed in the '40s so the styling was very different than what was about to follow in just a few years. The greenhouse had a steep, arched, slope in the rear. On the sides, behind the front wheels, there was a radiator that went out, exposed, from the front fenders. The DB2 was offered as a coupe or a convertible, named drophead coupe.
Even if the car was also offered as a Vantage model, which was the name for race-ready vehicles, the interior was completely upholstered with leather seats, door panels and floor carpeting. The instrument panel was made out of wood and installed on the leather-covered dashboard. Since the car was a two-seater, there were glove-compartments for both the driver and the co-driver.
Under the hood there was an inline-six engine with twin-cam (double overhead camshafts) and a 2.6-liter displacement. The low, 8.16:1 compression ratio was according to the fuel quality of the era. But still, the car offered enough performances. In 1950, the Aston Martin DB2 took the 1st and 2nd place at the LeMans race.
Full Description and Technical Specifications