BMW 2002
Generations Timeline, Specs and Pictures
BMW 2002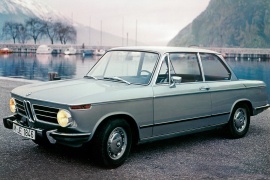 1968 1975
With its light weight, nimble handling, and rock-solid reliability, the BMW 2002 was one of the key elements for the BMW brand in the 1960s.
And it was the original predecessor of the BMW 3 Series, back in 1968.
In 1968, the Boeing 747 took off for its first flight and the Apollo 8 was the first manned spacecraft to orbit the moon. In the same year, BMW launched the 2002 model. It was an evolution of the BMW 1600-2 model, based on a shortened platform of the "New Class Sedans". The "-2" meant it was a two-door vehicle. The 2002 received its name due to a two-liter engine and a two-door bodywork.
The car had a simple design, with a three-box body. The hood and the trunk lid looked like they were floating on top of the side panels. It wasn't a mistake in design, but a unique method to gather attention and it worked. The very thin pillars of the car ensured a very good all-around visibility.
Inside, there was nothing special. Not even a stereo, but in 1969, as a favor for the American market, it introduced a 3-speed automatic gearbox. The flat seats were arguably comfortable. A thick steering wheel was installed to compensate for the lack of power-steering. There was no AC in the car, just the wide-open windows provided fresh air.
The 2002 featured a 100 hp engine, good enough to make the light, 960 kg (2116 lbs) car move quick around the corners. A more powerful version, the Tii, was introduced in 1971 and it was available with a choice of a 4- or 5-speed manual gearbox.
Full Description and Technical Specifications
BMW 2002 Turbo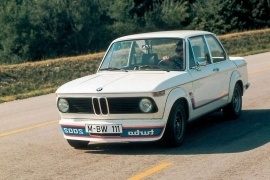 1973 1974
BMW developed a new 2002 Turbo model in the early '70s and introduced it at the 1973 Frankfurt Motor Show.
Its exterior paintwork featured racing-style stripes on both sides of the car, no front bumper, a redesigned more aggressive spoiler and wider wheels.
A unique feature about this model was the '2002 Turbo' words inscribed in reverse on the front spoiler, so the drivers in front of it would know what they were dealing with when looking in their mirrors. Due to intense criticism, this features was dropped on all production models after the official release.
The car was fitted with a 2.0L KKK (Kuhnle, Kopp and Kausch) turbocharged engine delivering an impressive 170 hp and 173 lb-ft of torque. Car's on road performances were also impressive, resulting in a 7-second score on the 0-60 mph sprint and a top speed of 130 mph. It was the first European turbocharged production model in history. Its discontinuance in 1974 was caused by the famous '70's Oil Crisis' (only 1672 units were assembled).
Full Description and Technical Specifications