CHEVROLET Evanda
Generations Timeline, Specs and Pictures
CHEVROLET Evanda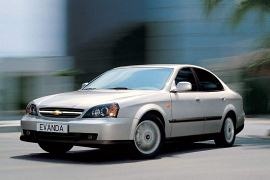 2004 2006
After GM purchased the Daewoo carmaker's remains, it introduced the Chevrolet in the European market as a budget-buy brand, and the Evanda was its flagship.
Before it went bankrupt, Daewoo developed a few new platforms and vehicles, and the Evanda was supposed to be launched as a Daewoo Magnus on the European market as a replacement for the aged Leganza lineup.
Since the Korean carmaker didn't have enough experience in designing a successful car from scratch, it hired ItalDesign (Giugiaro) to draw the lines for the Magnus. After the take-over, GM used the drawings and made the Evanda. It featured unique, double-curved headlights with sharp angles at the edges, following the new-edge design concept. The mix of curved surfaces and sharp lines defined the car and formed an elegant-looking sedan. Even though from its side it resembled the former Leganza, the car was built on a new platform, with a longer wheelbase. Overall, the car was longer by 10 cm (3.9") than the Leganza and Chevrolet marketed it as a budget-buy executive vehicle, ideal for fleets and rentals.
Inside, the Evanda was very roomy, with five seats. Even though the dashboard sported average-quality plastic trims, it looked good enough for its segment. On the full options trim level, it featured a radio-cassette player and 6-CD in-dash changer.
Chevrolet took Daewoo's 2.0-liter and 2.5-liter engines and paired them to either a five-speed manual or a four-speed automatic and installed them under the Evanda's hood.
Full Description and Technical Specifications