CHRYSLER Imperial Roadster
Generations Timeline, Specs and Pictures
CHRYSLER Imperial Roadster Imperial 8 Roadster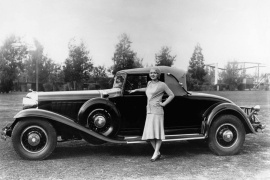 1931 1933
Just six years after founding his company, Walter Chrysler introduced the second generation of the Imperial lineup and offered the car as a sedan or an open-top roadster.
The Chrysler brand was still new on the market. Still, it was already a big player and became a member of the multi-cylinder exclusive group after introducing the inline-eight powerplant in 1931 for the Imperial lineup. The carmaker offered the vehicle as a luxury sedan or as a roadster. The latter was either bodied by itself or by private companies such as LeBaron coachbuilder from New York.
Chrysler had a feeling that the car will turn heads on the street with its size and proud, pined-out silver grille. Its big headlights and dual, electric horns available as an option were among the features that made the long roadster stood out from the crowd. Its long front wheel-arches were extended to the back and emerged into the side steps that eased the car's ingress and egress. A massive chromed bumper was a sign of respect and a "stay away" sign for other motorists in the back.
Inside, the owners were free to choose their interior colors and materials, but most of them chose expensive leather, wood-trims, and metallic buttons. Even though the car featured a bench for three at the front, a stow-away (also known as mother-in-law) seat was covered behind the cabin, under a big lid.
Under the hood, Chrysler installed its new, inline-eight engine that provided 125 hp. It offered a 25% increase in power when compared to its predecessor, the 1926 Chrysler Imperial. The engine was paired to a four-speed manual transmission and sent the power to the rear wheel via a drive-shaft.
Full Description and Technical Specifications