FERRARI F12 TRS
Generations Timeline, Specs and Pictures
FERRARI F12 TRS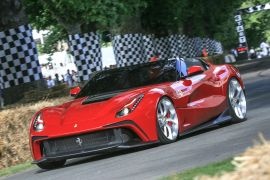 2014 2014
What the Prancing Horse did with this car was to take out the "Berlinetta" at the end of the Ferrari F12's designtaion and replace it with "TRS".
In English, this is a one-off version of the F12 that features a Bartchetta-style open top architecture. A customer's fetish, if you will.
The Ferrari F12 TRS may not be all that good in defending itself against the weather, but this Prancing Horse knows its history. The "TRS" at the end of its name is a nod to the 1957 250 GT Testa Rossa.
Golden Age aside, the F12 TRS shows even more aggressive styling cues than the Berlinetta. The best example is found within the front fascia, whose deep air intakes looks ready to channel the entire world into the air boxes feeding the mighty V12 behind them.
Speaking of this, Ferrari explains the… emancipation process has't affected the performance of the car. It's worth noting the technical side of the vehicle has remained unchanged. This means you're still up there with the baddest of bad boys: 0 to 62 mph in 3.1 seconds an a top speed of 211 mph (340 km/h).
We mustn't forget the aerodynamic challenger encountered here. For instance, the wrap-around greenhouse was matched with a cleaner hood appearance, which required the F12 Berlinetta's Aero Bridges to be removed.
Moving to the rear of this Ferrari, we find a menacing-looking set of aero elements. As for the color adorning the entire package, the usual Rosso Corsa has been replace by a unique, triple-layer shade of Red.
The transformation is just as profound on the inside, where the owner wanted a minimalist approach. Off went the glove box, central air vents, floor mats, audio system, window controls, as well as the cup holders. The climate control console had to be kept, but it was redesigned.
Ferrari hasn't released the financial burden this one-off brings, but the rumor mill places this at US$ 4.2 million (EUR 3.09 million). Roughly three times more than the price of the LaFerrari hypercar.
Oh and yes, given the Testa Rossa roots, you can call this Ferrari a Redhead.
Full Description and Technical Specifications