GMC Envoy XUV
Generations Timeline, Specs and Pictures
GMC Envoy XUV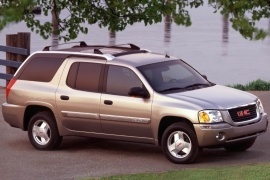 2003 2005
GMC tried to surprise the market with a mix between an SUV and a pickup with the 2003 Envoy XUV, but it didn't succeed.
Regardless of the market needs, the carmaker always tried to build something different to attract different buyers. Otherwise, we would still be stuck with similar vehicles as those from the 1900s. GMC managed to create great cars in its history, but the Envoy XUV won't join the rest of them. In its quest to find new territories, the carmaker remembered the Studebaker Wagonair from the '60s and tried to make it better. It did, but the idea still didn't work.
While the front of the car remained similar to the rest of the Envoy range, behind the front doors, everything changed. The roof featured a power-sliding rear roof that uncovered the cargo bay. In the back, the tailgate was either down opened or swing to the right. GMC even considered that a water-proof bay area would be a great idea, and it was. If the load made it dirty, the owner could just wash it with a power washer. Thanks to the side water drains, it was an easy job.
The mid-gate featured a mid-panel to extend the cargo area. The XUV's rear bench could fold and tilt forward and left room for the separating wall to fold down, forming a completely flat area with the trunk/bed. Thus, the owner could have extended the trunk room from 49 cu-ft (1,274 liters) to 95.2 cu-ft (2,695 liters).
GMC offered the Envoy XUV with a choice of two engines: an inline-six and a V-8. While the former was available with a rear-wheel-drive or an AWD version, the latter was only AWD.
Full Description and Technical Specifications