HOLDEN Drover Deluxe
Generations Timeline, Specs and Pictures
HOLDEN Drover Deluxe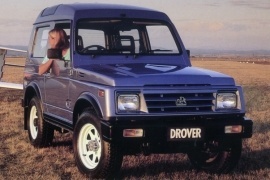 1985 1987
The Holden Drover Deluxe was another badge engineering situation since the car was a Suzuki Samurai with some small differences in its look.
In 1981, Suzuki introduced the second generation of the light 4x4 vehicle, the Samurai. It was a very affordable vehicle, able to cope in a challenging off-road situation without complaints. It was more like a tool than a car. But it had a simplicity that caught on the market. Australians loved it since it was one of the cheapest cars to take a surfer to remote areas and back, along with a friend. Due to an agreement between GM and Suzuki, Holden sold a rebadged version of the Samurai to avoid the high import taxes to Australia.
There were just a few differences between a Suzuki SJ51 and a Holden Drover. The front fascia featured rectangular headlights instead of the round ones found on the original model. The rest of the squared-looking bodywork remained the same. The body-on-frame construction allowed the manufacturer to use both versions: a soft-top convertible or a hard-top, 2-door vehicle. The latter was named Deluxe and featured a metallic roof and side panels with windows for the side and the rear window.
Apart from the Holden badge on the steering wheel, the other body parts were carried over from the light Suzuki Samurai. Moreover, it was built in Australia, and the dashboard was identical to the one from the Japanese market.
The Drover was fitted with a 1.3-liter engine mated to a 5-speed manual gearbox and a low-range gear for real off-road. The car featured a 4x4 on-demand system, which could have been engaged via a dedicated lever next to the gear-stick.
Full Description and Technical Specifications