TOYOTA Aygo 3 Doors
Generations Timeline, Specs and Pictures
TOYOTA Aygo 3 Doors Aygo 3 doors
2009 2014
The first generation of Aygo was unveiled at the Salon de L'Automobile in Geneva, 2005.
With the great success achieved over the years, Toyota decided it was time for a redesigned Aygo. Whoever thinks that a small city car should be only practical and economical should see the Aygo.
While matching the characteristics of a great city car, the Aygo had a very interesting design that appealed to the users.
From the front, the Aygo looked a little sporty with its fun aspect.
The Aygo came with a redesigned front grille and bumper. The front was extended by 10mm.
Inside, the Aygo offered great comfort and high quality materials were used throughout.
The Aygo was fitted with A 1.0-liter 3-cylinder engine, a gasoline powerplant that was developed to achieve great power, with great fuel consumption and reduced CO2 emissions.
The engine featured an all-aluminum construction which made it the lightest one available on the car market by that time - it weighed only 67 kg.
All Aygos came with a standard ESP.
Safety wise, the Aygo was equipped with the Toyota's MICS (Minimal Intrusion Cabin System), a structure meant to reduce the risk on injuries if involved in an accident. Front airbags were standard and side and entry curtains were optional for every trim model.
Full Description and Technical Specifications
TOYOTA Aygo 3 Doors Aygo 3 doors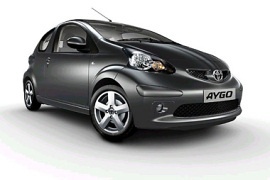 2005 2008
It seemed that the Yaris' days as the smallest Toyota were coming to an end in 2005.
Unveiled at the 2005 Geneva Motor Show, the Toyota Aygo was a small city car.
Toyota partnered with Peugeot and Citroen they built three different models based on the same platform, sharing and lowering costs at the same time.
The main differences between the Peugeot 107, the Citroen C1, and the Toyota Aygo were the badge, the rear side windows, the steering wheel, the front, and the rear design.
The Toyota Aygo was available as 3-door or a 5-door body style, the 5-door version was identical to the 3-door, but with added tiny little doors at the rear to ensure easier access to the rear cabin.
Design as a city car, the Aygo was fitted with a 1.0-liter 3-cylinder engine that developed 68 hp. One year later, Toyota added to the range a 1.4-liter unit with 54 hp. Regardless of the engine, the customers enjoyed a low fuel consumption.
Inside, the Aygo looked pretty funky with a minimalist instrument panel that gave the Aygo a very modern appearance.
Finding the suitable driving position was easy with the steering column that was both reach and rake adjustable, while the speedometer binnacle moved along with the wheel.
While small, the front occupants were offered ample headroom and legroom. The rear seat passengers seating behind taller front occupants did not have as much room, but children would've been just fine.
Full Description and Technical Specifications