VAUXHALL Corsa VXR
Generations Timeline, Specs and Pictures
VAUXHALL Corsa VXR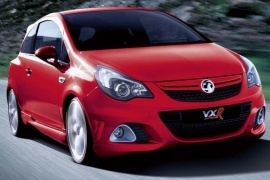 2011 2013
In 2011, Vauxhall renewed the Corsa range and the top-spec VXR version.
In 2011 the Corsa was renewed and it received a new styling plus a special edition named Nurburgring.
The hot-hatch segment used to be cheap and offer loads of fun for its customers. Unfortunately, those compact hot-hatches became more and more expensive and the young and restless couldn't afford them anymore. Then, the Renault introduced the Clio Sport with 172 hp and wiped the floor with many compact hot-hatches. So, the battle for horsepower begun in the small-segment. One of the big contenders was the Opel/Vauxhall Corsa in the special version OPC/VXR.
The Corsa VXR featured a sporty front fascia with a lip-spoiler on the lower apron of the car. A pair of big side-sills was installed and, in the rear, the exhaust was placed in the middle. A roof-spoiler was installed more for the look than for fact, but it looked good to enhance the sporting image of the vehicle.
Inside, the car featured sport-bucket Recaro seats for the front passengers and a simple, flat, bench in the rear. It offered the same rear room as any other Corsa, enough for two adults. The sport, thick steering wheel, and the leather-wrapped gear lever were part of the package. The Nurburgring edition had a B-pillar mounted sticker with the famous track drawing and two exhausts in the back.
Under the hood, the VXR offered a 1.6-liter turbocharged gasoline engine. It was good for 189 hp. The Nurburgring edition offered 207 hp. Both engines were mated to a 6-speed manual gearbox. A mechanical self-locking differential was available for the more powerful version and offered as an option for the regular VXR.
Full Description and Technical Specifications