VOLKSWAGEN Atlas
Generations Timeline, Specs and Pictures
VOLKSWAGEN Atlas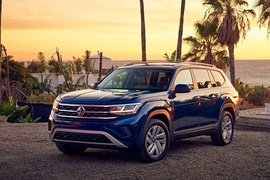 2020 2022
The Volkswagen Atlas is a mid-size SUV that was first produced in 2017.
The refreshed Atlas is available in 2 gasoline versions, the first one with a 235 hp four-cylinder turbocharged and direct-injection, and the second one with a 276 hp v6 engine. Both engines are connected to an eight-speed automatic gearbox.
The next generation of the Car-Net telematics system is included, thus taking advantage of the updated mobile app, car-net hotspot with up to four connected devices, a never-ending list of free services for five years, and a collection of subscription options for client flexibility. A variety of driver-assistance technology is available on all versions starting from Forward Collision Warning and Autonomous Emergency Braking with Pedestrian Monitoring (Front Assist), Blind Spot Monitor, and Rear Traffic Alert.
The reinvigorated model includes new headlight and taillight designs with standard LED lighting. Along with the sculpted front and rear bumpers, it creates a more aggressive stance making the Atlas more assertive from its previous model.
With refreshed seven-seats, interior upgrades, advanced technology, new driver-assistance features and a total of 111.8 cubic feet of passenger space available, the Volkswagen Atlas provides enough room for its passengers, maintaining the spacious interior and ergonomics that made the outgoing model so popular.
Full Description and Technical Specifications
VOLKSWAGEN Atlas
2017 2019
At the time of its launch, in 2017, the Volkswagen Atlas was the biggest car sold by the German brand in the U.S. The full-size, seven-seat vehicle stormed the doors at the Los Angeles Auto Show in a special event at the Santa Monica Pier.
With respectable sales figures for the Volkswagen Touareg, the German car-maker decided to do one more step and offer a seven-seat SUV. The Touareg had only five and, somehow, that was seen as a problem. So, it took the MQB platform and used it at its max.
The front of the Atlas looked closer to the Amarok pickup-truck than to other Volkswagen vehicles. With the long, horizontal lines on the grille and new signature headlights, it had a different statement than the other Volkswagen vehicles. With its tall, long and wide bodywork, the Atlas looked impressive.
Inside, Volkswagen offered various amenities, including a high-tech instrument cluster named Volkswagen Digital Cockpit, which worked almost the same as the Audi Virtual Cockpit. On the center console, the infotainment unit featured Android Auto and Apple CarPlay.
The second row of seats was able to slide back and fore and had a reclining seatback. For the third row, there was room for average height passengers.
Under the hood, the offer started with a turbocharged 2.0-liter engine, while the top-spec version featured a 3.6-liter V6 with 280 hp. The standard transmission was an 8-speed automatic.
Full Description and Technical Specifications